Huub Slabbers, the artist in short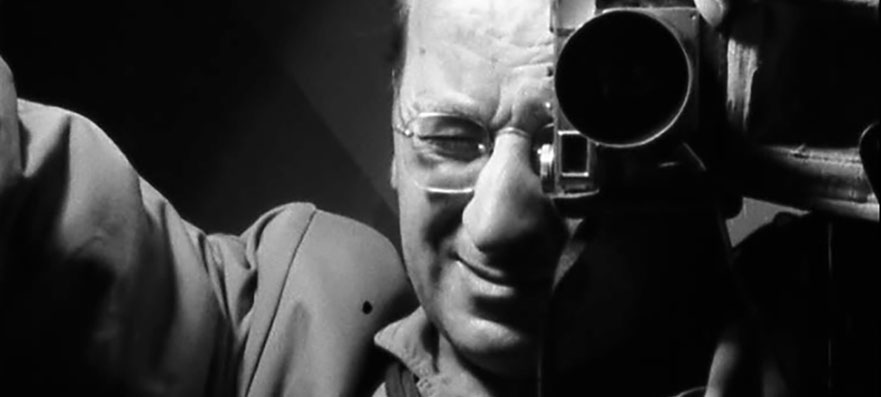 Self-taught as an artist

Working as an illustrator / photographer / set builder / designer

Press photographer

Painter within the BKR from the early 1970s

Various exhibitions in galleries in Amsterdam

Digital phase from 1994
It is amazing that one of the first Dutch digital artists was already at such an advanced age when he started working digitally. When he concentrates fully on the 'magic box' and hangs cloth and tassels from the willows, Huub Slabbers is blessed with the age of 84 years. From that time on, he will fully focus on this totally new way of image creation.
His lifelong experience as a photographer and painter gives him an enormous advantage. It makes his working method faster and more efficient. This is to a large extent the explanation of his enormous production in this digital final phase of his working life. He is a trained and experienced artist and can quickly get to the core digitally based on that experience.
While conventional painting took weeks to months to find the final form, he can now experiment with multiple versions within a day. He does that to his heart's content. This is also how several series are created, because he can more easily create multiple elaborations based on a basic idea.
Het is verbazingwekkend dat een van de eerste Nederlandse digitale kunstenaars al zo'n gevorderde leeftijd had toen hij digitaal begon te werken. Als hij zich volledig op de 'toverdoos' concentreert en doek en kwasten aan de wilgen hangt, heeft Huub Slabbers de gezegende leeftijd van 84 jaar. Vanaf die tijd zal hij zich volledig gefocust richten op deze totaal nieuwe manier van beeldcreatie.
Huub Slabbers, personally
He met his wife Ria Barendse around 1946. Together they move to Brussels where there is enough work for him as a draftsman, creator and photographer in advertising. Two years later they return to Amsterdam where they have five children between 1949 and 1964, all of whom inherit the creative and / or photographic gene.
In 1949 he establishes himself as a photographer, specializing in advertising and product photography and children's fashion for, among others, the weekly magazine Eva. His youngest son Peter (who later becomes a photographer himself) is his favorite model. At the same time, he works as a photojournalist for the daily newspaper The Free People, an edition of the Arbeiderspers. He photographs both the daily life of that time and starting celebrities, including Toon Hermans, Wim Sonneveld and Godfried Bomans.
In 1954 the family moves to the completely newly built Amsterdam 'garden city' Slotermeer. Here he developed into a professional creator, writer and illustrator of children's books. Until the mid-1970s, he devised and illustrated countless story, coloring and activity books, and games and postcards that are published (inter) nationally by various publishers.
Due to competition and takeovers within the publishing world, he loses his clients; he decides to change course and becomes a 'free artist'. After a first, very successful exhibition, he continues to make free work for years with a symbolic image of humanity as a starting point.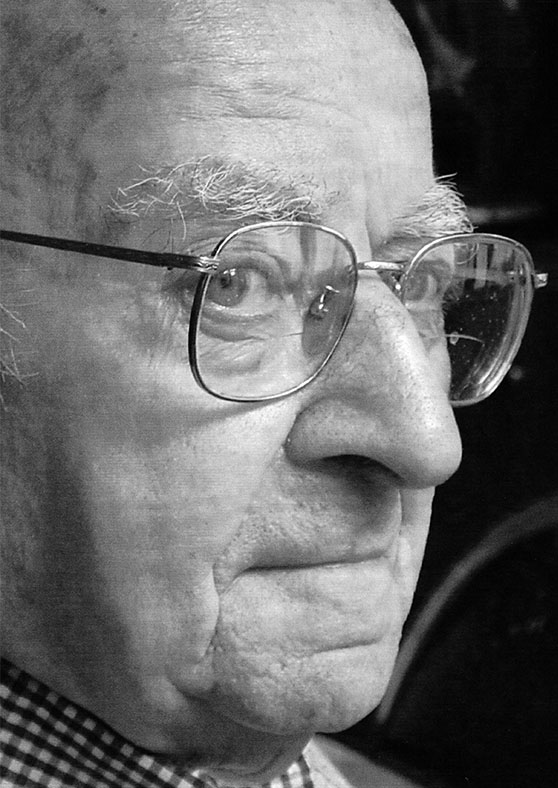 Early years: works as a set builder, painter and draftsman at advertising studio Luhlf, among others
1939-1945: war years, including employment as set builder and painter
1946: Gets to know Ria Barendse and moves to Brussels and works there as an illustrator and photographer
1948: Marries Ria Barendse
1949: Returns to Amsterdam and establishes himself as a photographer specializing in fashion and advertising.
Also a photojournalist for Het Vrije Volk.
Had five children with Ria between 1949 and 1964: Eric, Ronald, Peter, Marina and Paul.
1954-1973: Writer and illustrator of (children's) books, activity and coloring books, puzzles, postcards
1983: Ria and Huub split up
From 1984 Huub stays with second son Ronald
2000: Huub does not stop working, but 'takes a sabbatical'
He died a year later, on March 9, 2001.
Wikipedia
The remarkable step of an elderly artist who reinvented himself in old age was an exceptional story even in the early days of the Apple MacIntosh. That is why the magazine MacFan, in the May 1992 issue, gives ample attention in an extensive interview.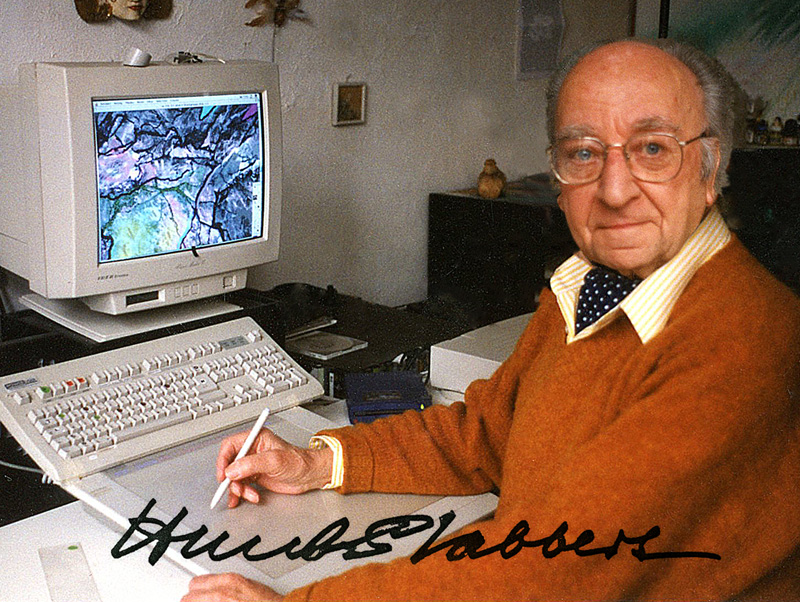 Huub Slabbers (87) uses the mac as a canvas (From Macfan).
`` It's all in that miracle box ''
Do you also notice that older people who have no knowledge of modern technology always come up with the same excuse? 'We are not happy with it', it keeps saying. So what? This is living proof that you are never too old to learn. Huub Slabbers: artist, 87 years old and probably the oldest Mac user in the Netherlands.
No matter how much respect we have for those gray hairs of your and our grandparents, they no longer fool us: grandpas and grandmas who say they didn't grow up with computers really mean they aren't interested in it at all. There are also plenty of people in their twenties who know nothing about computers, but at least they honestly admit that they will know a big deal. The excuse is not only used by the elderly fellow man. It already starts with the over-50s. And what nonsense they actually do, we don't know at all after our meeting with Huub Slabbers.
Sorry dat we dit verhaal een beetje fanatiek beginnen. Je ziet dan ook niet elke dag een hoogbejaarde man met Photoshop stoeien alsof-ie nooit anders heeft gedaan. Toch maakte kunstenaar Huub Slabbers pas drie ('Of was het vier? ') jaar geleden voor het eerst kennis met het fenomeen computer. Schilderen was en is zijn passie, maar hij had in zijn leven al meer kwasten en potjes schoongespoeld dan hem lief was. En als je zoon dan in de grafische ontwerpwereld werkt en bovendien niet te lui is om pa van de gemakken van een Mac op de hoogte te stellen, volgt van de één al snel het ander.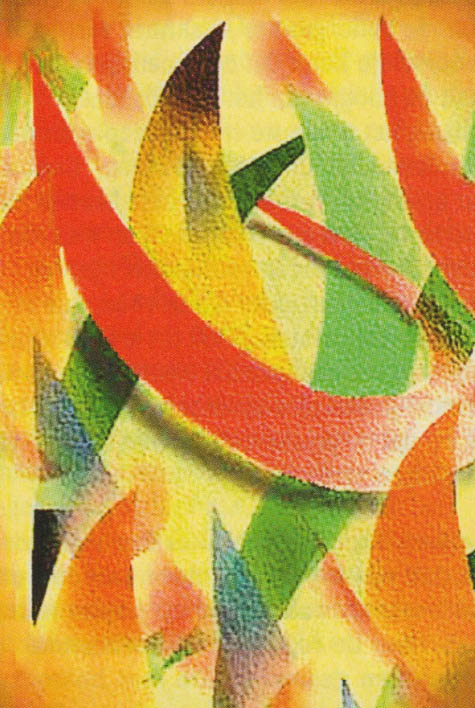 Huub Slabbers is now on his third Mac (a 6100/66) and has produced several hundred beautiful digital artworks in recent years. We have printed a number of them on these pages.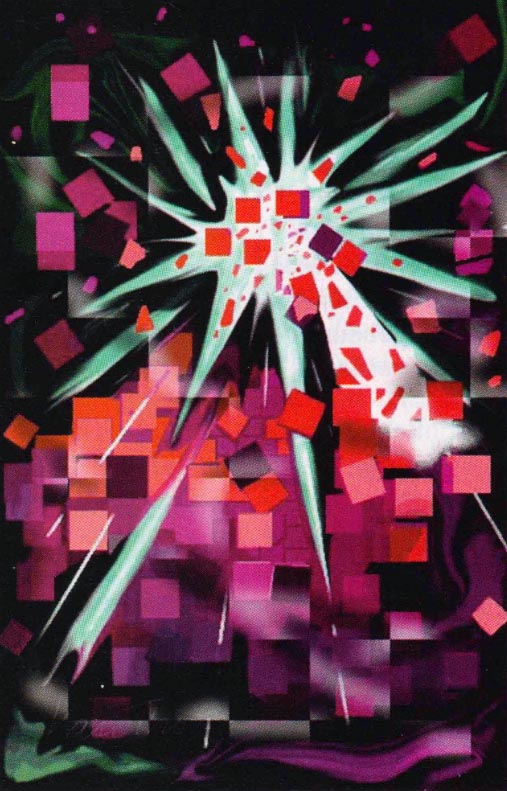 I have actually always been creative, says the Amsterdammer. "My father had a number of carpet business and after my studies I was allowed to go to accounting. Well, that didn't suit me at all. Anyway, done anyway. It was incredibly old-fashioned there, so I soon decided to modernize a few things. I went to the Bijenkorf, about seventy years ago, you should know, to see how they made those beautiful price tags in wax writing. I discovered that you had to work with spirit lacquer, a substance that no longer exists. Price tags in lacquer, that's where it started. Shortly afterwards, I also made advertising posters for the store and other things like that. ' Slabbers' creativity was not always appreciated at that time. 'My father was quite conservative and I was very progressive, so that didn't go well at all. For example, I was constantly walking around with renovation plans and all that.
Dus als mijn vader een dagje in één van de andere tapijtzaken was, zag ik mijn kans schoon. De volgende dag was de winkel natuurlijk helemaal veranderd. 'Wat krijgen we nu weer?', schrok vader, 'terug met die rommel!' Dan zei ik: 'Wacht nu eerst eens even af wat de mensen ervan vinden. Het is vast wel goed zo'. Dus ik stiekem bij de deur gaan staan om de handelsreizigers op te wachten, en maar vragen aan die mensen: 'Als uzo binnengaat, doet u dan alstublieft een beetje enthousiast?'. En ja hoor: 'Goh mijnheer Slabbers, wat is het hier mooi geworden'. En dan bleef het zoals het was.' Later werd Huub Slabbers aangetrokken om politieke illustraties te maken voor Opmars, het blad van de lVP. Daarna werd hij fotograaf, onder meer voor Het Vrije Volk. 'En daar krceg ik het na een tijdje aan de stok met de chef, want met hem had ik hetzelfde verbouwingsgeintje uitgehaald als met mijn vader. (Lacht) Maar helaas, dát feest ging niet door. Ik moest eruit.'
Na allerlei omzwervingen (ik heb nog een tijd in Brussel gezeten, en daarna een jaar of tien kinderboeken gemaakt geschreven én geïllustreerd … ') besloot Slabbers uiteindelijk voor zichzelf te beginnen. Hij ging schilderen, maar maakte ook tabletops, fotografische kunstwerken met een geprojecteerde achtergrond en een vlak (rustend op een tafel) met een aantal geordende voorwerpen als voorgrond. Zijn stijl laat zich niet in één woord vangen, maar heeft abstractie als rode draad. 'Het kwam zelfs tot een heuse expositie, waar ik ontzettend goed heb verkocht. Maar laat die galerie nu failliet gaan … Toen had ik er echt geen zin meer in. Want wat ik niet kan, is zelf verkopen, En dan ook helemaal niet.
"As long as my brain is still working properly, I want to understand that whole machine."
I have a lot of drive, a lot of ideas, but for God's sake leave me alone I'm busy. I just don't have time to peddle my own work. Besides, I can't justify the things I make; a technique that you, as a seller, have to master. What I need is a commercial director. I would like to work with someone like that, a young guy who is enthusiastic and who knows the inputs. At least then I can get back to work. ' We are aware of no harm if it turns out that Slabbers considers even an innocent visit by MacFan a major interruption in its continuity. "You held me up for a few weeks because of the screenshots you needed for the article. By the way, here you have them, I put them on a Zip disk. ' Slabbers' statement may not be technically accurate, but it is one that portrays the man better than any other phrase.
'Eerst had ik alle afbeeldingen bewaard in RGB. Dat zegt je toch iets, niet? Maar toen bleek dat jullie de plaatjes als GPEG wilden hebben. Gee-Ee-Pee-Gee, ja? Wat zeg je, Jee-PEG? JPEG dan. En dan hoor ik van de week van mijn zoon dat de drukker liever het Spike-formaat heeft. Want dat zijn vier kleuren, terwijl RGB er maar uit drie bestaat. Toen heb ik het hele zaakje omgewerkt en er een korreltje overheen gegooid. Dat heeft me allemaal een heleboel tijd gekost en zodoende ben ik al een week of twee niet aan schilderen toegekomen. Ik wil alleen maar schilderen, meer niet. En jullie waren eventjes een stoorzender … ' en voelen ons schuldig, maken onmiddellijk onze oprechte excuses, maar kunnen er na al deze technische termen niet meer omheen: wat beweegt een (toen) 84-jarige man ertoe om een computer in zijn leven te verwelkomen? 'Mijn zoon Ronald, hij woont hierboven, heeft een Macintosh. lneens zag ik het helemaal voor me: geen kwasten meer nodig, geen geknoei meer met water – het zit allemaal in die wonderdoos. Je zit lekker de hele dag achter dat ding daar, en je maakt niks meer vies. Een ander kleurtje, een ander kwastje – 't is fantastisch. Niet vermoedend natuurlijk dat die computer in feite een lastig individu is, dat je voortdurend probeert dwars te zitten.' 'Het is steeds weer een gevecht. En ik maar mopperen vanachter dat scherm, ook al ben ik helemaal alleen in huis. Zit je een half uur te werken, krijg je ineens een error. Al je werk weg! Soms ben je zo geconcentreerd bezig dat je vergeet om tussentijds te bewaren. En dan neemt-ie wraak, die Mac. Geloof me, er wordt wat afgevloekt hier.' In het begin vroeg Huub Slabbers regelmatig hulp aan zijn zoon, maar tegenwoordig heeft hij hem naar eigen zeggen niet meer nodig: 'Als ik nu iets niet weet, kijk ik in één van die gele boeken daar (wijst): handleidingen voor Dummies.
I also have a lot of works on Painter and Photoshop, the two programs I use the most. My son knows exactly what software, updates and books I need. I leave that to him.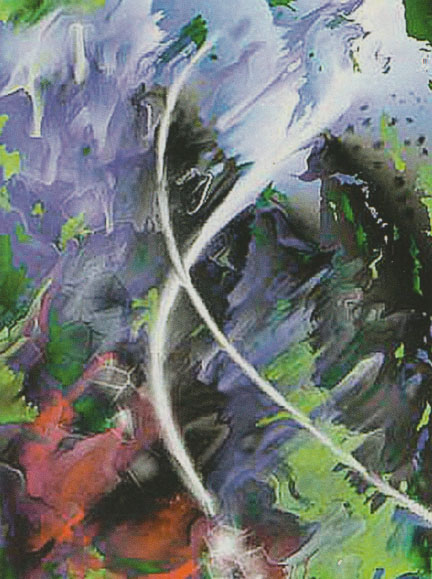 Slabbers never had a PC. 'Listen, my son and I are designers. Then you take a Mac "'. it sounds sensible and full of conviction. 'There is no PC in here. According to my son, a Mac is much more logical and simpler than Window. Window is all hype. The general public only buys such a machine to 'belong'. And at home it turns out that they can't handle it. Well, it's all just hearsay. I honestly don't even know the difference between a PC and a Mac. An acquaintance of my son… (Thinking deeply) What was I going to say again? No, my memory. something needs to be done about that. Maybe I should add some RAM too. (Laughs) Because that's always a problem with that computer. You are constantly running out of memory, especially in Photoshop. ' The artist can look back on various techniques, but now finds the Mac the most fun and most practical way to create a work of art: 'In the normal way, you sometimes spend days on one work of art. Now they come about much faster. Would I not have less credit for my work? No, it's all about the result - and I just achieve that a lot faster this way.
Your freedom is also much greater when you work with the computer. The only thing you miss is the real paint effect: you can't really feel the different layers, their thickness. But there is also progress. I now have some works printed directly on canvas. ' Slabbers shows us a sample: 'As you can see, that is already a lot better. And it also feels much better when you sell it. If you sell it ... When someone feels called to become a commercial director, he can let me know. (Inspired) I just want to get behind that thing! As long as my brain is still working properly, I want to understand the whole machine, I want to extract the images that fit my personality. ' Baby Bibs can spend hours a day behind his Macintosh. He says he has to. Because when he is 'out' for a while, he loses his rhythm and forgets even the most everyday actions. 'And then it often takes me a lot of time and effort to figure out certain things again. I have to learn to live with that ', the artist realizes. Many people don't believe the man behind these paintings is 87. 'Unbelievable', wrote a gallery in Amsterdam. 'We estimate you at 25.' Simply not possible, 'say others. 'It is possible *. Slabbers knows. 'It just takes an awful lot of effort now and then, though.' "Whether I think it's an achievement for someone my age? I do not know. But I do think that some oldies can spend their time better than sitting in the club. Although… When I see how I sometimes yell and rave behind that Mac, I think: I can't do this to my peers. '
Text: Michel van der Ven Photos: Jeroen Verheugd.